Little Wiwa
Lille Verden Signatur Små Play Mat
LILLE VERDEN X GEOMETRISK GREY
Lille Verden (Small World)
Welcome to our magical small world, imagined from the innocence of a child. Where all bunnies, bears, deer and foxes wander harmoniously around the woodlands. Alongside the stretch of train tracks, little houses scatter near lakes, surrounded by tall trees and hills to climb. Invigorating the little ones' imagination to play while nurturing ours, as the shade of sage wash unnecessary worries with a calm. Our new collection is tailored for the family, where simplicity meets creativity. The Lille Verden is designed to encourage the little ones to express their imagination and experiences in their unique ways, where anything is possible and endless.
Geometrisk (Geometric)
The minimalist homes must-have.
A firm favourite and a classic, the Geometrisk in grey is our flagship design as yet. The Little Wiwa® signature, known to many. The geometric lines in its simplicity is a raw Scandinavian principle that we have held close since our inception.
Tying in the old and the new, the Lille Verden X Geometrisk Grey is the symphonious union of a new generation of Little Wiwa® Mats to come. 


---
Every Little Wiwa® play mat is a premium eco-friendly luxury, sourced and crafted from 100% sustainable and biodegradable TPU foam. These plush mats are reversible, featuring two designs and colours that capture minimalist Scandinavian characteristics to suit your mood with a simple flip.
Designed and tailored with the entire family in mind, the thick shock-absorbent cushioning provides a safety guard and comfort for tummy time support of our little adventurers even as they learn to crawl, walk and play – all without an intrusion to the aesthetics of your existing home décor.
Most importantly, our award-winning play mats are proudly:
Non-toxic; PVC-free, BPA-free and free of toxic chemicals (plasticisers, phthalates, cadmium, lead and many more relating to the use of additives in toxic plastic.)
Hypoallergenic and does not off-gas Volatile Organic Compounds (VOCs.)
Waterproof for ease from accidental food spills or boo-boos.
Multifunctional – it transforms to suit your needs – from a nappy-change station for bubs, it can also double as a lounging or exercise mat for adults.
Easy to maintain and clean with a daily wipe.
Lightweight and portable, easy to roll up and store when not in use.
DIMENSIONS:
Små: 100cm (L) x 140cm (W) x 15mm thick (2.4kg)
MATERIAL: Non-toxic TPU Foam
BONUS FEATURE: All Little Wiwa® play mats come rolled up with 3 Velcro straps in the packaging - these are reusable! They are handy for when you have to roll them up again for cleaning/ to take them outdoors/ playdates - so be sure not to cut them off :)

PLEASE NOTE: Due to absence of toxic additives to TPU material, an ageing process comes naturally with the mats and you might find fading and discolouration over time with usage.
The timeframe of the ageing depends on the factors and conditions the mat is used and placed within. This process may be accelerated due to heat and humid conditions, prolonged direct exposure to sunlight and/or cleaning practices using harsh cleaning agents.
Particularly with designs in white/lighter colour palettes, the ageing process may present as a yellowing on the surface and/or edges of mat that have been heat-sealed. This ageing process is not a fault but simply a characteristic of TPU material, and we hope you make an informed decision on the colours that you choose prior to purchase. Please refer to our Product Care instructions for best practise and how to minimise discolouration! :)
All our play mats have been tested independently and are compliant with Australian & New Zealand AS/NZS ISO 8124 Toy Standards as well as European EN71 Toy Standards. You can request for full product testing reports by contacting us on support@littlewiwa.com



BEFORE FIRST USE

Ensure that all packaging materials are removed and placed away from little ones.


The mats are rolled up tightly in individual packaging to reduce volumetric shipping weight. Once taken out of the box packaging, unroll the play mat in reverse direction to release minor creasing and for it to relax and settle. Depending on how long the play mat has been rolled in the box, It can take up to a few days. 
There may be stubborn edges/ stronger creases when they are rolled too tight -

 

simply roll it in reverse direction and use the velcro straps to strap it up, leave it overnight, then unroll it and let it face downwards to let it settle naturally. 


Simply wipe clean with soft cleaning cloth and warm soapy water before first use.
PRODUCT CARE INSTRUCTIONS
We highly recommend wiping the mat(s) clean with soft damp cloth for everyday cleaning.
The best way to thoroughly clean the mat is simply using mild (pH balanced) soap.

 

If soiled, simply use a small amount of detergent and wipe down the entire mat and leave it to dry naturally/ dry with a dry cloth. 
PLEASE NOTE:
Do not use

 

any strong cleaning agents as prolonged use may damage/ discolour the mat. 
Most baby wipes contain fragrance stabilisers which are of alcohol functional groups that act as preservative-like properties. They are certainly antimicrobial but unfortunately alcohol is not suitable to clean TPU materials. Short term use may not show any/much changes however prolonged use may cause discolouration/ weaken the material and cause easy damage.
Please check ingredients listings carefully before use, as some natural sprays/ baby sprays may contain alcohol/ essential oils that are still considered strong degreaser (i.e. Eucalyptus Oils/ Essential Oils). Please avoid these as they may cause discolouration. 

Avoid alcohol/ alkaline based cleaning products to keep discolouration at bay.

 

Prolonged use may weaken the material and cause it to easily tear.
Do not use any sharp or hot objects around the mat, as it may cause puncture damages.
Do not place heavy furniture on the play mat as it may cause puncture damages over time.
Do not leave it in direct sunlight to avoid heat damage and/or discolouration.
Avoid wearing shoes as it may cause puncture damage.
Do not use pens/ permanent ink/ markers on the mat. Ball-point pen marks are not removable.
Not suitable for steam cleaning.
Not suitable for pets as its claws may cause puncture damages.
Customer Reviews
Write a Review
Ask a Question
12/02/2022
Vered K.

Singapore
Perfect mat
It's superb and looks good too, no plastic smell and easy to clean
03/02/2022
Razeille A.

Australia
My 4th Little Wiwa mat!
I think the fact that it's my 4th mat speaks for itself! We spend all day on our mats and they have not lost their squishiness at all even after almost 3 yrs since the first one. It's has saved our carpet from baby nappy free time to toilet training days. It's seriously the best investment ever. Love that the designs are so so pretty. Consistently amazing customer service as well! Very much recommended! Thanks as always Shanti and the wiwa team!
25/11/2021
THUHAIBATUL I.

Singapore
Repeat Order
This time I purchased the smaller one to be placed in my boy's room. The quality of the mat made me repeat the order.
21/10/2021
Cheryl J.

Singapore
We love it!
The play mat elevates my 5 months old experience greatly. From flipping to playing with his toys around on the mat, we know he is safe and feeling comfortable on it. Plus points for the visual attractiveness of the mat too! Baby as well as the adults love it!
21/10/2021
Nicole P.

Singapore
03/10/2021
Jane Y.

Singapore
05/08/2021
Agnes M.

Hong Kong
Signature playmat
Nice Overall is quite nice If more various size would be better My target size is 140 x 180cm is perfect
Hi Agnes, Thank you for taking the time to review your play mat. We will most certainly take on board your feedback in regards to the current sizing of mats we have on offer. We are always looking to improve our products and experiences and your feedback is so important to us. Thank you for your support! Kindest regards, LW Team x
19/07/2021
Lucy C.

Australia
Reliable and aesthetic
Purchased 3 mats over time, came back each time because of the quality of the mats and how good they look in a playroom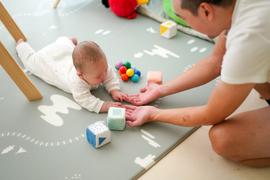 Hi Lucy, Thank you so much for taking the time to write up a review! We are so excited to hear that you have an expanding collection of our mats in your home :) Your little one looks right at home on the playmat and beautiful space. x LW Team
18/02/2021
Catherine T.

Singapore
Little Verden Wiwa Playmat
Overall it's a good playmat for my baby. Thickness is good but I should have bought a bigger size. It will be good if it could come with a storage bag for travel.
20/12/2020
Sufi M.

Singapore
Material and Item is good
The material and item is good but i need bigger size. i choose the wrong size.
28/10/2020
Shu W.

Singapore
Lovely mat with pretty design and awesome quality
Bought this mat for the little one whom is currently three months old for her tummy time and she loves it. Can't wait to see her flip on the map and eventually crawl on it. Also receive excellent after service from the Little Wiwa team whom responded promptly with all queries. Highly recommended for all to purchase.
21/09/2020
Shafinaz L.

Singapore
12/09/2020
Davina L.

Singapore
Awesome Playmat
A must buy playmat for lil ones. Pretty design and great support for crawlers/walkers.
09/09/2020
May L.

Australia
30/06/2020
Rebecca M.

Australia
Gorgeous play mat
Perfect fit for our living area and our 10 month old loves to sit and play on it! Also perfect for nappy off time!
28/06/2020
Mark N.

Australia
Amazing brand, product and people
love it. would definitely recommend it to all my friends