Little Wiwa
Natur Sage Generös Play Mat
THE NATUR LÖV SAGE X GEOMETRISK GREY
Designed in Australia and inspired by Scandinavian aesthetics, The Natur is one of our best-selling original designs.
Löv (Leaf)
Honouring nature, and a tribute to our love for greenery and foliage, the Löv had come to be loved by many with fondness for a touch of flora that brings calmness to any space.
Geometrisk (Geometric)
The minimalist homes must-have.
A firm favourite and a classic, the Geometrisk in grey is our flagship design as yet. The Little Wiwa® signature, known to many. The geometric lines in its simplicity is a raw Scandinavian principle that we have held close since our inception.
--- 
Every Little Wiwa® play mat is a premium eco-friendly luxury, sourced and crafted from 100% sustainable and biodegradable TPU foam. These plush mats are reversible, featuring two designs and colours that capture minimalist Scandinavian characteristics to suit your mood with a simple flip.
Designed and tailored with the entire family in mind, the thick shock-absorbent cushioning provides a safety guard and comfort for tummy time support of our little adventurers even as they learn to crawl, walk and play – all without an intrusion to the aesthetics of your existing home décor.
Most importantly, our award-winning play mats are proudly:
Non-toxic; PVC-free, BPA-free and free of toxic chemicals (plasticisers, phthalates, cadmium, lead and many more relating to the use of additives in toxic plastic.)
Hypoallergenic and does not off-gas Volatile Organic Compounds (VOCs.)
Waterproof for ease from accidental food spills or boo-boos.
Multifunctional – it transforms to suit your needs – from a nappy-change station for bubs, it can also double as a lounging or exercise mat for adults.
Easy to maintain and clean with a daily wipe.
Lightweight and portable, easy to roll up and store when not in use. 
DIMENSIONS:
Generös: 200cm (L) x 140cm (W) x 15mm thick (4.2kg)
MATERIAL: Non-toxic TPU Foam
BONUS FEATURE: All Little Wiwa® play mats come rolled up with 3 Velcro straps in the packaging - these are reusable! They are handy for when you have to roll them up again for cleaning/ to take them outdoors/ playdates - so be sure not to cut them off :)
PLEASE NOTE: Due to absence of toxic additives to TPU material, an ageing process comes naturally with the mats and you might find fading and discolouration over time with usage.  
The timeframe of the ageing depends on the factors and conditions the mat is used and placed within. This process may be accelerated due to heat and humid conditions, prolonged direct exposure to sunlight and/or cleaning practices using harsh cleaning agents.
Particularly with designs in white/lighter colour palettes, the ageing process may present as a yellowing on the surface and/or edges of mat that have been heat-sealed. This ageing process is not a fault but simply a characteristic of TPU material, and we hope you make an informed decision on the colours that you choose prior to purchase. Please refer to our Product Care instructions for best practise and how to minimise discolouration! :)
All our play mats have been tested independently and are compliant with Australian & New Zealand AS/NZS ISO 8124 Toy Standards as well as European EN71 Toy Standards. You can request for full product testing reports by contacting us on support@littlewiwa.com

BEFORE FIRST USE

Ensure that all packaging materials are removed and placed away from little ones.


The mats are rolled up tightly in individual packaging to reduce volumetric shipping weight. Once taken out of the box packaging, unroll the play mat in reverse direction to release minor creasing and for it to relax and settle. Depending on how long the play mat has been rolled in the box, It can take up to a few days. 
There may be stubborn edges/ stronger creases when they are rolled too tight -

 

simply roll it in reverse direction and use the velcro straps to strap it up, leave it overnight, then unroll it and let it face downwards to let it settle naturally. 


Simply wipe clean with soft cleaning cloth and warm soapy water before first use.
PRODUCT CARE INSTRUCTIONS
We highly recommend wiping the mat(s) clean with soft damp cloth for everyday cleaning.
The best way to thoroughly clean the mat is simply using mild (pH balanced) soap.

 

If soiled, simply use a small amount of detergent and wipe down the entire mat and leave it to dry naturally/ dry with a dry cloth. 
PLEASE NOTE:
Do not use

 

any strong cleaning agents as prolonged use may damage/ discolour the mat. 
Most baby wipes contain fragrance stabilisers which are of alcohol functional groups that act as preservative-like properties. They are certainly antimicrobial but unfortunately alcohol is not suitable to clean TPU materials. Short term use may not show any/much changes however prolonged use may cause discolouration/ weaken the material and cause easy damage.
Please check ingredients listings carefully before use, as some natural sprays/ baby sprays may contain alcohol/ essential oils that are still considered strong degreaser (i.e. Eucalyptus Oils/ Essential Oils). Please avoid these as they may cause discolouration. 

Avoid alcohol/ alkaline based cleaning products to keep discolouration at bay.

 

Prolonged use may weaken the material and cause it to easily tear.
Do not use any sharp or hot objects around the mat, as it may cause puncture damages.
Do not place heavy furniture on the play mat as it may cause puncture damages over time.
Do not leave it in direct sunlight to avoid heat damage and/or discolouration.
Avoid wearing shoes as it may cause puncture damage.
Do not use pens/ permanent ink/ markers on the mat. Ball-point pen marks are not removable.
Not suitable for steam cleaning.
Not suitable for pets as its claws may cause puncture damages.
Customer Reviews
Write a Review
Ask a Question
12/11/2021
muhammad s.

Singapore
04/11/2021
THUHAIBATUL I.

Singapore
12/09/2021
Stephen M.

Singapore
My baby loves it
My five month old baby loves playing on the mat. It's a lovely colour and fits in well with the furniture in our living room.
01/08/2021
Nora A.

Singapore
Not just a pretty mat
We love how stylish yet amazingly comfortable it is. Not just for the little ones for sure. Great as a deco mat too!
Hi Nora, We are so glad to hear that you have seen the potential in our beautiful minimalist designs as a complimentary feature in your home! We love that our designs lends itself to be a complimentary piece in your home, not just designed to keep little ones safe and comfortable when playing and exploring but also to be aesthetically pleasing to your surroundings. Thank you for your lovely review, we really appreciate it! x LW Team
29/04/2021
Claudia L.

Singapore
Great
The mat is beautiful, soft, and easy to clean. We also like spending tummy time with our one month old on it.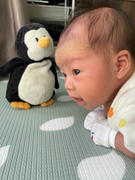 Hi Claudia, Thank you for sending us a photo of your cute little one doing tummy time and for your lovely review of your play mat. It makes us so happy to hear that you are loving it. We really appreciate your support of our little business. Thank you! LW Team x
11/11/2020
Michelle Y.

Singapore
Wiwa playmat
I like the overall appear, the colour is very vibrant and Style is Scandinavian. However, the downside is that there is a plastic scent even after airing for a few days.
20/07/2020
Celia H.

Singapore
Excellent mat and service
So happy with out mat, and with our experience contacting LittleWiwa. A+
12/07/2020
Evelyn T.

Singapore
Great mat
The mat was really great! My little one is just started to learn how to flip and the mat provided a great space for her to do so! The mat's of good quality, shock absorbent, pretty design and most importantly, safe materials. Definitely recommended for parents considering playmate. However, the thickness could be increased.
08/06/2020
Amira R.

Singapore
07/06/2020
Susan H.

Singapore
A great purchase
Excellent quality, comfort and design! Wonderful customer service and prompt delivery! Totally pleased with this play mat!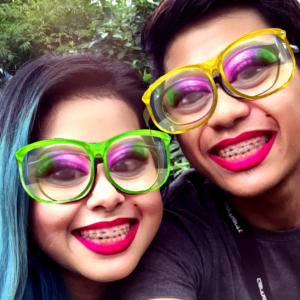 AS
27/04/2020
Anis S.

Singapore
Amazing
Love playmat sooo much!
05/04/2020
Nur M.

Singapore
Fantastic play mat
I have been contemplating on getting little Wiwa's playmat since early this year. Finally got my hands on it for my little one and I'm truly satisfied. Regret not getting it earlier! She's been enjoying herself, turning and playing on it. For us adults, we took the chance to lay on the mat as well! It is really comfortable. Even my mum asked to purchase another. Thank you for creating this wonderful play mat!
04/04/2020
Syamimi L.

Singapore
Love the mat!
Great purchase overall, light, easy to maintain and good cushioning
28/02/2020
Stephie F.

Singapore
Baby loves it
My baby develops a lot of motion skillls on this mat. In the beginning he cried when being out there. After the 3rd tial, he starts to enjoy it on his own. Now amazingly he can crawl in his 6 month old. Thank you Wiwa <3
07/02/2020
Cheryl

Singapore
Love it! Bought another one!
Since my little girl just started rolling over, she has so much fun, and we don't have to worry about her hitting her head as it's firm but soft enough to be comfortable. Plus, it's water-resistant and easy to wipe off any spillage. Another plus point, when rolling/folding any mat, it's hard to unroll the edges or remove the crease. This doesn't happen to Little Wiwa's mat. Leave it for a few hrs n viola.
02/02/2020
Faezah S.

Singapore
Pleasing on the eyes and bum!
Love the design and feel of the mat. Super comfortable sitting and playing on. Definitely recommend for your little ones!
12/01/2020
Huda I.

Singapore
Multifunctional mat
Fell in love at first sight with Little Wiwa mats. I was pleasantly surprised at how soft and thick it is. We don't just use it for kids play time but for us adults to lie on when we're watching the TV in the living room as well! Love it so much I actually bought a 2nd one in a different colour!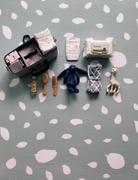 01/01/2020
Nuraisyah M.

Singapore
Just what we needed
Baby and the family are loving this mat. Its large, aesthetically pleasing and easy to clean! Im not worried about making a mess and baby is enjoying exploring more unconventional materials. Also loving how it blends in with our room.
27/10/2019
Maggie K.

Singapore
Great product and material
Love the material and design. Great buy!!
20/10/2019
syahirah y.

Singapore
Great mat... Only wish it
Great mat... Only wish it to be a little harder because now when i step its too soft that i can feel my tile sumhow